Sir David Amess, Member of Parliament for Southend West, has handed his firm backing to the NCC campaign against a 705% rise in motorhome tax.
On 5 September, John Lally, NCC Director General, and Alicia Dunne, Deputy Director General, met with Sir David to discuss the campaign aimed at stopping the increase from £265 up to £2,135 payable on first registration of a new motorhome with a WLTP Euro 6D/2 engine.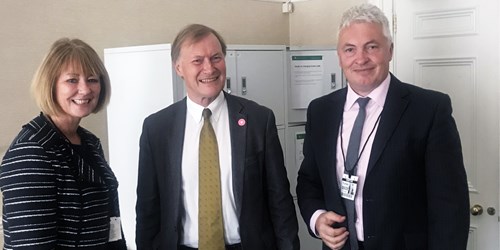 Sir David has already been involved with the campaign in great detail within Parliament - speaking in the House of Commons just prior to summer recess and tweeting his support of a petition to stop the motorhome tax.

Many thanks to Sir David for agreeing to support the campaign. We look forward to working together to ensure motorhomes are not classified as cars by HM Treasury for the purposes of Vehicle Excise Duty. 
Further support across social media has also been gathering, with a number of campaign supporters tweeting their messages of support:


At Shield Total Insurance we wholeheartedly support the @NCCLtd in their campaign for Fair Motorhome Tax. Get involved! https://t.co/sQaGVJhU2z#FairMotorhomeTax #Motorhomes #TaxHike #VED

— Shield Total Insurance (@shield_insure) September 12, 2019
I'm supporting the campaign to stop a 705% rise in motorhome tax! A motorhome is not a car & taxing them as such is wrong. I'm calling on @hmtreasury to urgently reclassify motorhomes as commercial vehicles for the purposes of VED. #FairMotorhomeTax https://t.co/8gqPQ4Hmce

— Phil Withers (@philhessle) September 19, 2019
I'm supporting the campaign to stop a 705% rise in motorhome tax! A motorhome is not a car & taxing them as such is wrong. I'm calling on @hmtreasury to urgently reclassify motorhomes as commercial vehicles for the purposes of VED. #FairMotorhomeTax https://t.co/VmRqiew6S0

— Janaways on Tour (@janaways) September 14, 2019

I'm supporting the campaign to stop a 705% rise in motorhome tax! A motorhome is not a car & taxing them as such is wrong. I'm calling on @hmtreasury to urgently reclassify motorhomes as commercial vehicles for the purposes of VED. #FairMotorhomeTax https://t.co/NeVSQ0NZ7A

— terry hudson (@thud13) September 14, 2019

I'm supporting the campaign to stop a 705% rise in motorhome tax! A motorhome is not a car & taxing them as such is wrong. I'm calling on @hmtreasury to urgently reclassify motorhomes as commercial vehicles for the purposes of VED. #FairMotorhomeTax https://t.co/lq3yOVaCIv

— Bob and Jenny's Motorhome Adventures (@BobEarnshaw) September 14, 2019

Thanks - I claim no expertise on this but just seems to me a flawed argument to categorise as commercial when very clearly they are leisure vehicles or perhaps for some general mode of transport - car (smaller campers). Good luck with campaign.

— BaileyAdventurer (@BaileyAdventur1) September 19, 2019