On a truly compelling and industrious day in Parliament on 29 October, the NCC was privileged to help arrange a drop-in session for MPs in Westminster. The aim was that attendees could learn more about the 705% rise in first registration tax on new motorhomes, and hopefully add their support to the Fair Motorhome Tax campaign.
The events that unfolded in the chamber on the day itself couldn't have been foreseen, but despite such a busy schedule for MPs, the turnout for the event in the late afternoon was extremely encouraging.
Emma Hardy MP (Hull West and Hessle) and Sir David Amess MP (Southend West), who have both been very supportive of the NCC campaign, kindly sponsored the drop-in event in Parliament Street, inviting a range of cross-party MPs. In between key votes on a timetable for a General Election and Brexit negotiations, the NCC was delighted to receive some 20 MPs and advisors at the drop-in event. Many showed dismay and incredulity that the first registration tax on new motorhomes had been raised so drastically.
John Lally, NCC Director General, commented: "Every single MP that attended spoke very highly of the correspondence they had received from their constituents. With so many NCC members writing to express concerns in recent months, it was pleasing to see such a reaction from MPs. It was clear an extremely powerful message had been received from those members who had engaged directly with their MP."
MPs GIVING THEIR SUPPORT
As would be expected, a large wave of support came from MPs from the North-East, with MPs David Davis (Haltemprice and Howden), Emma Hardy, Melanie Onn (Great Grimsby), Laura Pidcock (North West Durham) and Nic Dakin (Scunthorpe) all expressing grave concern on behalf of different constituencies within the regional home of motorhome industry.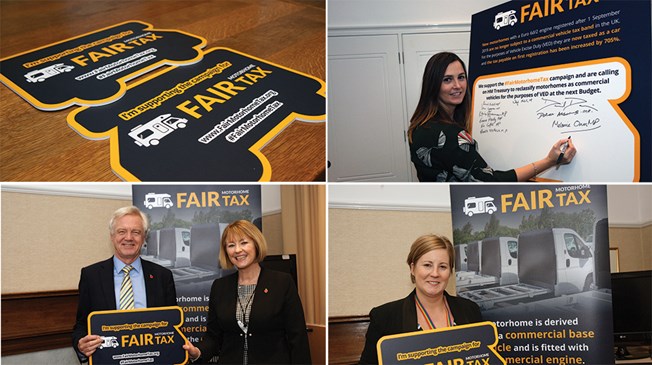 Peter Aldous MP (Waverley), David Drew MP (Stroud) and Sir Christopher Chope MP (Christchurch) pledged support for the campaign on behalf of touring parks, while Hannah Bardell MP (Livingston) Drew Hendry MP (Inverness, Nairn, Badenoch and Strathspey) and Chris Stephens MP (Glasgow South West) represented dealers and campervan manufacturers in the Scottish regions.
Other MPs that joined the drop-in session were Nia Griffith MP (Llanelli), John Grogan MP (Keighley), Kevin Brennan MP (Cardiff West), Nigel Mills MP (Amber Valley), Ruth George MP (High Peak), Rosie Cooper MP (West Lancashire) and Philip Dunne MP (Ludlow).
The Fair Motorhome Tax campaign continues to gather pace. With a December General Election, the NCC will be expanding the campaign message into an election pledge for all the major parties to adopt, to have the measure reversed in a post-Election Budget.
NCC members and others from across the motorhome industry can contact the NCC on policy@thencc.org.uk for advice on how to approach MPs and points to make to support the campaign.